Merry Go Round
Nagpal Engineering and Sports (NES) is the name to remember if you're looking for one of the best Merry Go Round Manufacturers in Delhi/NCR.
Merry Go Round has forever been a kids' #1 play giving them fun and pleasure. The roundabout and simple development of that make it one of the most pleasurable drives around. This is quite possibly of the most well known decision in sporting hardware for the tomfoolery and satisfaction in kids. This play gear has made the word about us the well Merry go round manufacturers in Delhi NCR. Children enjoy the rotating motion and the challenge provided by a merry-go-round as they try to keep it spinning and rotating. And this equipment does more than give kids a good time and enjoyable time
We ensure that we fulfill set industry criteria as part of our commitment to providing uncompromising quality. Custom-built Play Merry Go Around are available in a variety of sizes, shapes, colorful, and appealing patterns.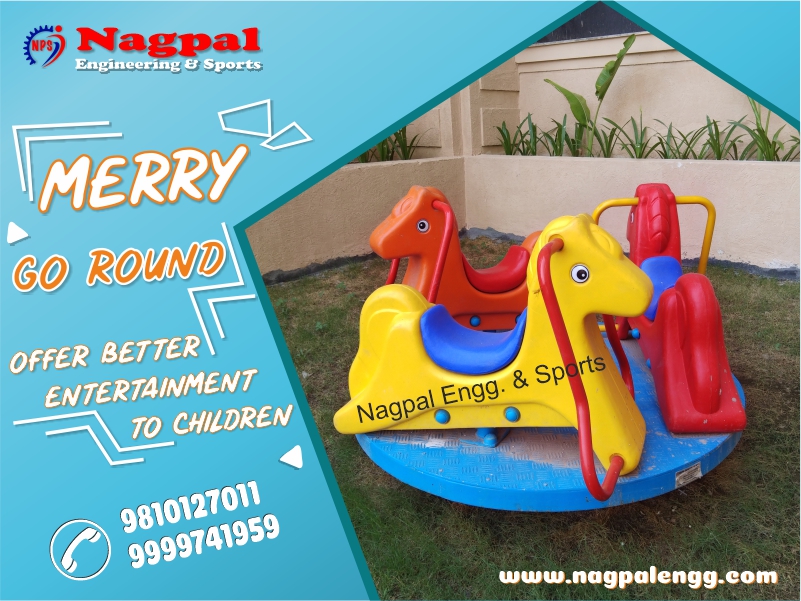 Paramount Reasons To Choose Our Merry Go Round
> Perfect for outdoor playing For Kids.
> Maintain a high level of entertainment.
> Available in a variety of sizes and colors.
> Economical and affordable
> Easy to install and maintain.
> Unique design that attracts the attention of children.
> Come with interactive features for a satisfying experience.
Contact Us To Order Now!
We are one of India's most reputable Merry Go Round Manufacturers and Suppliers. To continue the conversation, fill out the inquiry form or call our specialists. We're only a phone call or a click away from assisting you. Call us at +91-9810127011, or +91-9999741959 for quick enquiry.